Getting started with the Vivint Smart Hub in your Fort Smith smart home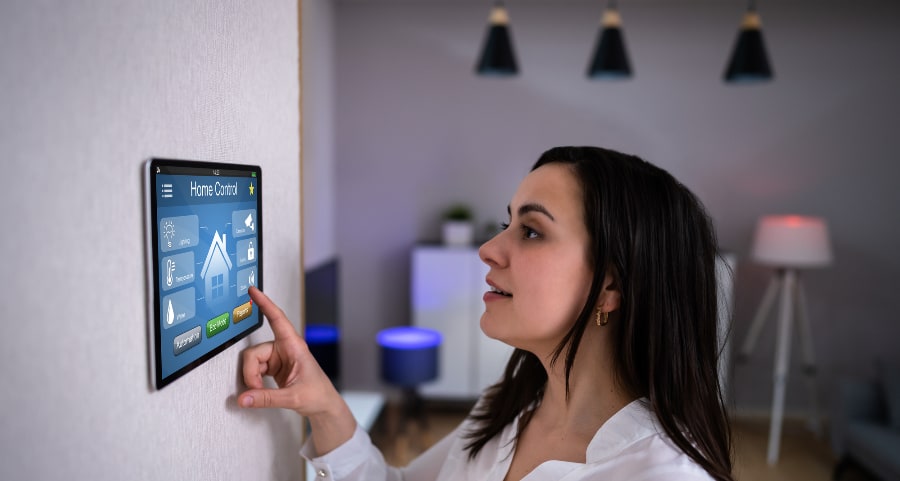 At the center of your home security, the Vivint Smart Hub connects your cameras, security sensors, thermostats, and locks into a single cohesive system. This intuitive, 7-inch color touchscreen places you in full charge of your Fort Smith home's automation and security. See how it can benefit you and check out suggestions to get you started.
How can the Vivint Smart Hub in Fort Smith help you?
Wirelessly coupling to sensors and other implements with radio wave transmissions and Z-Wave communications, the Vivint Smart Hub is the command center for your property. You can arm or disarm your system, operate lights, update the thermostat, and more. When integrating a doorbell camera, you may even chat with visitors on your front porch. The Vivint Smart Hub includes built-in cellular connectivity and a battery backup for enhanced reliability. It also provides total remote operation via the Vivint smartphone app.
Here's a sample of the functions you can perform:
Check current or recorded video streams from all connected surveillance cameras
Disarm or arm your home's security
Toggle lights on or off
Operate your garage door
Adjust your thermostat's temperature
Talk directly to monitoring professionals
You can take convenience to another level with your Vivint Smart Hub in Fort Smith by setting schedules or initiating preferences. To illustrate, you can have your smart thermostat automatically adjust nightly at a specified time. Or, you can add preferences like having your doors unlock if the smoke alarm trips.
Quick guide to arming and disarming your security system
Before you delve into all the amazing things your Vivint Smart Hub can perform, you'll want to grasp how to arm and disarm your system. It's simple - just abide by these steps:
Tap the shield icon on the home screen and swipe to the right for "Away" and left for "Stay."
Stay means you will still be present inside your home and arms everything excluding interior doors and motion sensors.
Away indicates you will be leaving, and all sensors in your home will activate.
To disarm, simply slide the shield icon down and enter your PIN.
The Smart Hub will post a message if the system isn't ready to arm. To illustrate, an open door will prompt you to take action. Note that you are still able to arm your home's security by using the above steps. You will then have to verify that you would like to circumvent the sensor that isn't engaged.
Adding users to your Vivint Smart Hub in Fort Smith
Even though various users can be programmed when you first get your system, you will probably want to add or remove a user down the road. Here are instructions to do so.
Press the menu icon (three dots) at the bottom right of the welcome screen.
Tap "Users" and type in your PIN.
Choose "Add new user" near the bottom.
Tap "Name," enter the the name you want to use, and hit the Next button.
If you would like to give the user remote capability, select email or phone and enter the info to deliver an invite.
Choose Next and then create a PIN for the new user.
To delete a user, just navigate to the menu, touch users, select the user you would like to delete, and then press "Delete User."
Add security and convenience to your home with Vivint
Do you want to take charge of your home's security and automation via an easy-to-operate touchscreen console? You'll enjoy the Vivint Smart Hub and your new Fort Smith home security system. Dial (479) 370-4503 to learn more.